So if you are confused about downloading links from the main site, this easy and quick tutorial is for you.
Step 1: Browse the game. We are using Milfy City for this example. Scroll down, and you will see a section like this.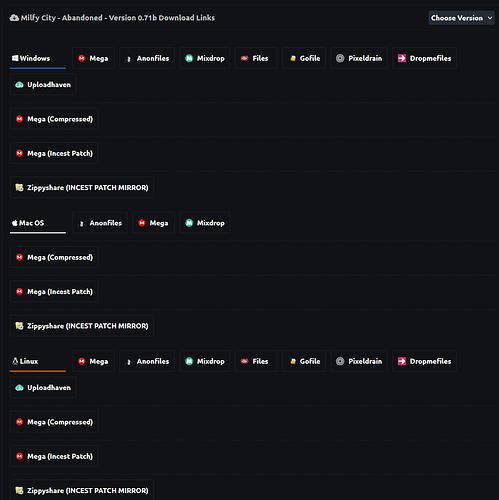 Step 2: Let's get familiar with our system of distributing links.
The links you see here are of the latest version that we have. In this case, it is v0.71b. From the top right corner, you can browse the older versions of the game from the "choose version" button.
There are two types of sections there. First is the Platform section. In the example, any links under the Windows label are for Windows operating system. The section ends before the declaration of another platform like Mac. So all links between Windows and Mac labels are for windows. Pretty straightforward.



Now, If you look closely, there is another sublime sectioning. With a dotted border. The dotted borders separate groups of links. In the above photo, there are four subsections. Pay attention to brackets on the buttons, which describe the types of links. If there is no bracket, that means those links are the primary game files.
In this example, the Links above the first dotted line don't have any brackets with them. So those are the links to the main game file. Below the first dotted line, We can see "Compressed" written with the Mega link. So that is the link for the game's compressed version for Windows operating system.
So, why are so many links? Those can be different mirrors for each file. Mega, Anonfiles, Mix drop etc. So you only have to download one file from a section. Some games are enormous, so they might be split into several parts. In that case, you have to download different parts from different sub-sections. For example, Honey Select has three parts, so it is split between three subsections.



You only have to download one file from each dotted section and extract all.
Almost always, you can use any mirror to download the parts. For example, it will work fine if you download Part 1 from Mega, Part 2 from Gofile and Part 3 from Pixeldrain.
Step 3: After you click the download link, you will be redirected to another site with a 7 seconds timer.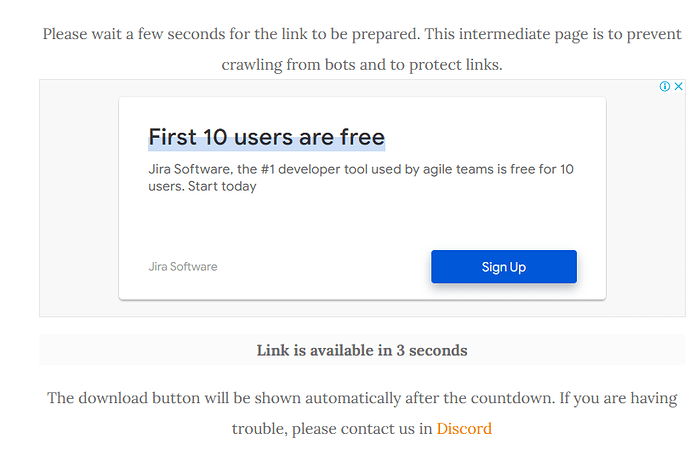 Wait a bit, and a big red button should be visible.

Click on the button, and you will be redirected to the file host and from there, download the file from the host. For example, Click the download button on Mega.nz.

Sometimes, a host may not work correctly. A file can be deleted or taken down. For that, we have more than one mirror in the file. If the Mega link does not work, use Pixeldrain or Google drive link, for example. I hope this tutorial helps.