As you know, the first 5000 registered users will get a limited "Founder" badge. You can go to the Badge page and equip it as your title.
Once the first 5000 users are awarded, the chance of getting the Founder badge is gone forever.
I've just registered. Am I eligible for the badge?
You are eligible for the badge if you are one of the first 5000 members. You can easily check how many users there are from here. Under the Site Statistics section, check the Sign Ups row and All Time column.
Why have I not been awarded the badge yet?
It is a manual process. An admin has to award the badge to people sometimes. So it may take some time to be awarded. Be patient. It usually takes a day or less but sometime it takes more than few days. The award doesn't grant you any extra benefit yet so relax.
Do I have to post on the forum or do some specific tasks to be awarded?
No. just registration is enough.
Can your badge not be awarded by mistake?
That is impossible. Every-time we award in bulk, all the emails of all users are used. So we can not miss your account. We do not just pick the new accounts in the batch so all accounts. Just be patient.
How do I equip the badge as title?
You can go to your profile and click on the "Badges" tab and click on the Founder badge. To make it simple, this link will take you directly to the Founder badge.
Now, From the right side, click on the pen button as shown in the image.

Then select the badge and save the settings. The Founder badge should show below/right side of your name in forum discussions.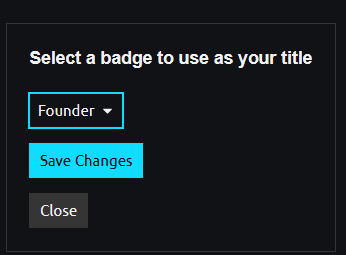 UPDATE: We have added a design on the founder badge.